We finally did it! We've been talking for the past two summers about taking the kids up to the mountains for their first real tent camping trip. We've been to the mountains before with them, but always stayed in a nice cabin or condo. So they've experienced the mountains, but never full-on camping!
This summer has been so busy that I wasn't sure if we were going to be able to swing it. Last year, we ran out of time and had to tell the kids we would take them the next summer. I didn't want to do that again. So I spent Friday pulling together all of our old camping stuff, running to REI, Target, and the grocery store. I packed the car and was ready to go when Dave got home from work. We left around 2:30 to go up there.
We arrived at an old campsite that we used to camp at to find it closed. They were doing a lot of removal of the pine beetle destroyed trees. The next campsite - closed, too. The next one looked like it was only a camper site. Fortunately, it had five tent sites, one of which was open for us and PERFECT! We had to make several runs of equipment since the site was several hundred yards from the car, but that was OK. We were right next to the lake, secluded, and had enough trees for me to hang up the camping hammock (a must-have tradition from camping with Dad).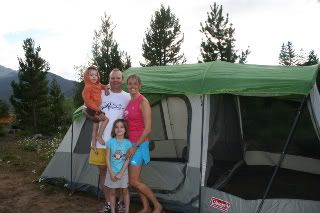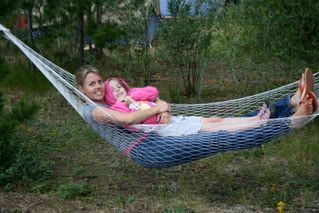 After setting up, and playing around a bit, we made dinner.
(This pic is for Kristen - see how intent I am on the corn?!?)
We roasted marshmallows and had a few beers. Then the rain started, so we got ready for bed. Then, the RAIN & WIND started. Dave had just gotten us a new HUGE tent with a big front screen room - which promptly pulled itself out of the ground in the wind. After Dave fixed it, we had to pull all gear into the screen room. It was a little bit chaotic.
Once in the tent for the night, we listened to the rain and wind. The kids fell asleep. Dave and I did not - until about 4 a.m. We were keyed up from the storm, a little bit worried that the kids would get cold, and quite uncomfortable. Apparently, we're not as young as we used to be when we would easily sleep on inch thick air 'mattresses'!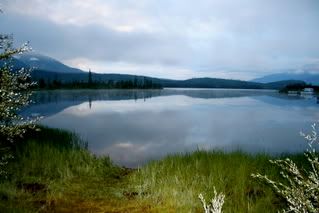 The next morning was fine - a bit chilly, but the lake was beautiful - smooth as glass. We were a bit tired, having only 2 hours of solid sleep in our system. We took the kids for a hike where Annie got to feed some chipmunks. We checked the weather and it was supposed to rain again. So, we had lunch, packed up the car, and went home. A day early, but we had a fabulous time! We made it up to the kids by having pizza and game night that night instead!
I kept checking the weather. It turns out it was 43 degrees and rainy from about 3:00 pm until 9:00 pm. Then, it was rainy and cold the next day, too! So we definitely made the right choice to come home early!