It is finally here!  A day that I both looked forward to and dreaded!  For the past several weeks, I would burst into tears as I was filling out the mounds of paperwork or as I was reading Kindergarten books to Annie before bed.  (I would at least wait until I was out of the room!!)  My little girl is growing up and it is so bittersweet!  
I knew she would be fine.  I knew she would love it.  This morning, she ran into our room while we were getting ready shouting a la Finding Nemo, "First day of school!  First day of school!!"  It was so cute!  She was ready!  But was I???
On her way...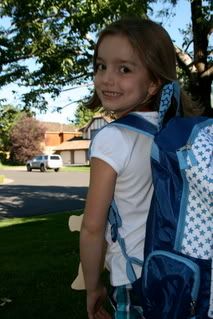 We headed down early to the bus stop which is only a few houses away.  14 kids are at that bus stop!  It was a crowd this morning, with moms, dads, siblings, and the kids who actually had to get on the bus!  The bus arrived and the kids crowded on - three to a seat!  Annie was on, no looking back!  That's when the tears started for me!
I followed the bus to school to make sure she got to her class.  (This will not be a normal thing for me, believe me!)  She got in just fine.  More tears for me!
Then the rest of the day was fine.  It did seem awfully long for me.  I'm so used to picking her up at 1:30, that 4:15 (when she gets home on the bus) seemed to take forever to arrive!  But it did, and she had a blast.  And I survived!  And I am now hoping that the rest of the days seem as long as today.  Because I know it won't take long for me to get busy busy busy again and have those moments when I am wishing for one more hour!
But tonight I just hugged her and tucked her in - as she was telling me she couldn't wait to get on the bus tomorrow!