So, you all know that we just painted our family room and our entryway.
(BIG THANKS TO KRISTEN RAY IN TEXAS FOR INSPIRING ME TO DO SO!!!! CLAP! CLAP! CLAP!)
Anyway, if you look in the previous post at the pic of the entryway, the lamp that hangs down is totally heinous. Glass and brass - very 80's. So, we ordered a new one from Pottery Barn! I can't wait to get it and put it up. The only question is how the heck we're going to get up there to do so... (Enter Gordon Hayes - handyman extraordinaire)
Here's a pic of the new one...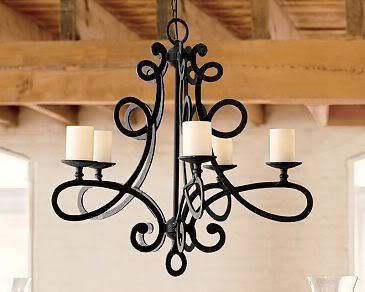 Take a look at it and picture it in the entryway in place of the other. WOO HOO!