About a year ago, we found out that LSU was going to be playing Washington in September of this year and that a lot of Dave's college buddies would be making the trip. Now, when most people say a lot of college buddies, I don't know what that means to them. When Dave says it, it means like 40 or 50. In addition to this, I had never been to Seattle, so we deemed this a must-attend road trip.
First things first, we had to get there... Some old friends of ours, David & Colleen, were nice enough to wait up for us and pick us up at the late hour of 11:30 pm at the airport. D & C used to live in Denver and were our camping / hiking / drinking / hanging out buddies. They had been in Seattle since Wednesday for a few days of hiking up by Twilight Territory (They didn't see any vampires, but they did eat a Bella Burger.) And even though we made them stay up halfway through the night to pick us up, they had a beer waiting for us in the car and hung out in the hotel bar for a bit when we got to the 'busiest hotel in the world' - The Westin in Seattle). (Thank you Doug!)
Friday was spent all over Seattle - we hit Pike Place Market, the first Starbucks, a Brewery for lunch, and Snoqualmie Falls for a quick hike, and finished the day having dinner in the Space Needle. It was insane to see the number of people wearing LSU colors around. It's a funny thing to me how the LSU crowd brings not just one outfit of school colors to wear to the game, but three or four to wear on the days preceding and subsequent to the game as well. They sure are proud of their school! One lady even offered to let me wear her LSU jacket when they were taking a picture for us since I didn't have anything with the school logo on! I politely declined - I was at least wearing a gold colored shirt!
Pike Place Market - you have to see it if you go just to say that you did, right?
I happened to catch this awesome video of the guys throwing the fish...
Very first Starbucks - Guess what?! It tasted like the soy latte that I get at the one 5 minutes from my house!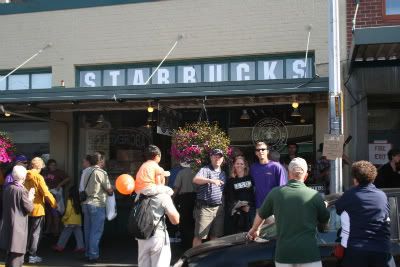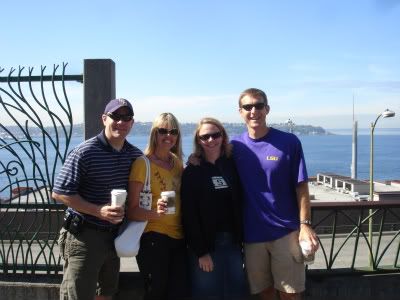 After seeing a ton of Dave's buddies at the Brewery, we headed off for a hike down to the bottom of Snoqualmie Falls!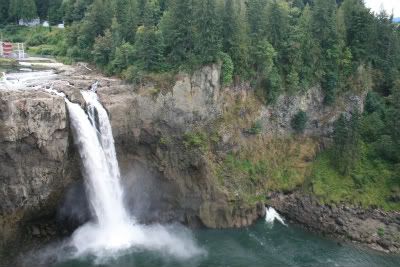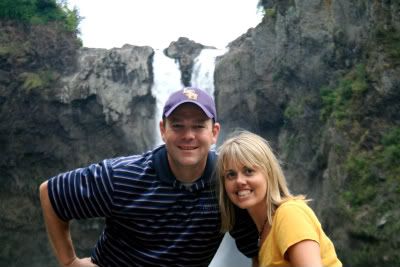 Notice this is the only picture of our 'dinner'. While the rotating restaurant was cool, it took CC and me a bit of time to get used to it. The food was phenomenal!
And I'll leave you as we walked home from the Space Needle on Friday (You'll have to wait to hear about Game Day.) with a pic of something you don't see every day.... Hmmmmm......